All of the beads on this page are available for sale and if you don't see exactly what you would like,
contact me
to place a custom order.  If you don't know how to wire wrap pendants, I can create a finished piece for you using any of my focal beads.  Standard shipping is via USPS First Class Mail, all orders over $100 ship for free.  If you would like your order shipped Priority Mail please select the shipping upgrade button at the bottom of the page.
Check out my stainless steel
pendant bars
for an instant way to wear your beads!


Click here to join

my mailing list!


Violet Stripes - SOLD

Decorated with multiple layers of colorful lines, this bead was created with earthy sand, creamy ivory, crystal clear and five different shades of opaque violet.  The shape of this bead is a gently tapered, four-sided rectangle which has been accented on all 4 sides with graduated crystal clear bumps. 

This bead measures 41mm tall and 24mm across at the

widest point, including the bumps.

Fossil - SOLD

This bead's tall, segmented shape was created with streaky sand, jet black, and two shades of bold turquoise.  The center and both ends are decorated with geometrical patterns of layered dots and lines, and tiny raised turquoise buttons add just a bit of texture.   This bead measures 38mm tall and 21mm across at the widest point.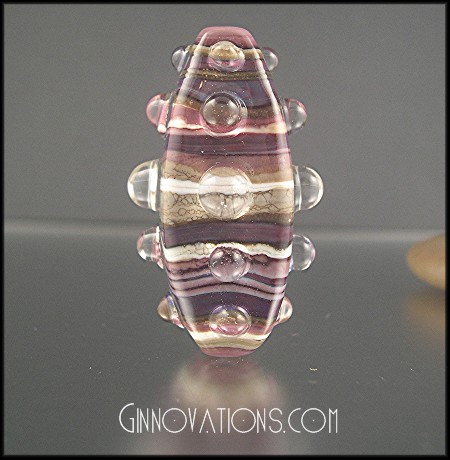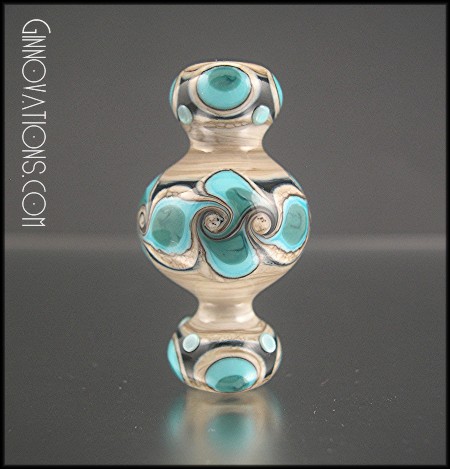 Sunshine - SOLD

Add a happy splash of color to any outfit!   This big-hole focal bead was formed around a 1/2" mandrel and was created with sunny yellow, orchid enamel and bright turquoise scrollwork.  This bead has so many possibilities . . . simply string it on your favorite chain for an instant necklace or incorporate it into one of your own handmade kumihimo, fiber art or seed bead creations.  

This bead measuring 15mm x 23mm.

Whirlwind - SOLD

This tall, slender focal bead was created with creamy ivory, jet black, a variety of soothing blues, dusty violet and metallic gunmetal.  This piece is decorated all around with dots, lines and twisted swirls of color, is capped with a ring of black at both ends and is accented with 2 rows of petite metallic bumps for a bit of texture. It measures 49mm tall and 17mm across at the widest point.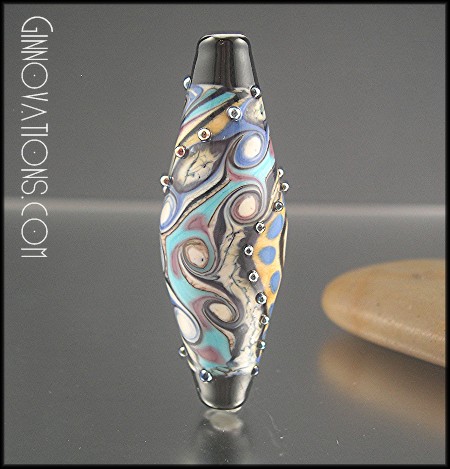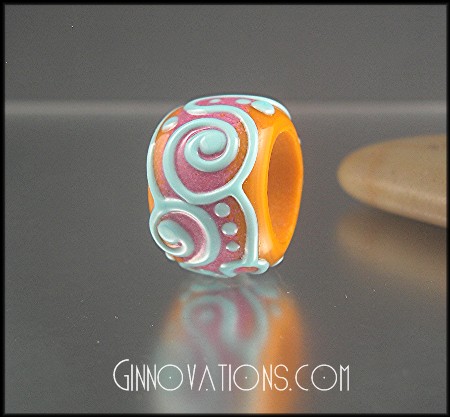 Golden - SOLD

This round focal bead was created on a core of multi-hued specialty glass that varies in color from golden cream to hints of soft violet and blues.   A thick layer of crystal clear encasement magnifies the beauty within and petite raised metallic bumps act as the perfect finishing touch.   This bead is beautiful from any angle and measures 14mm x 19mm in size.   If you don't know how to wire-wrap, I can make this bead into a finished pendant using all sterling silver findings and accents. 

Just send me an
email
for details!